Who is Annemarie Willems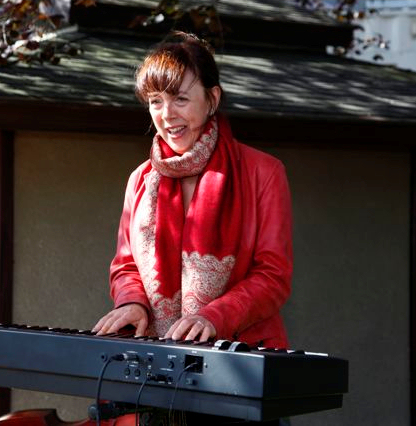 From childhood she has been raised with music. Her father was a musician and Annemarie learned to sing and play the piano very early on. Even so it would be her (now ex-)husband Frenk van Meeteren, member of the folkband King's Gaillard, who stimulated her to go for a career in music.
Early eighties she studied at the Utrecht music academy and established herself as a voice teacher in 1984. "In that year quite a lot happened and the nice thing was that I was asked for all of them". Like writing the music for a short movie 'Sophie' and being a singer in Bergen in a multi-disciplinary performance 'If only pigs had wings'.
The 'Muzisch Centrum' in Delft engaged her as a voice coach for 'Mistero Buffo', for which she was also the muscial director. This theatrical play of the Italian Dario Fo contained a lot of protest music. "That had to be sang in militant way. Three young men could not find the right pitch. I discoverd at that time that you can learn to hear the right pitch by training. During the performance they have been singing very purely. The 'Muzisch Centrum' subsequently asked me to give voice training".
She rounded off her period in Delft by directing and conducting a short opera Der Jasager by Brecht/Weill. The opera was performed five times.
Otto Bentinck, former director of the Koorenhuis, was one of the enthousiastic listeners. He asked her in 1998 to join the Koorenhuis to lead the voice training class. He also asked Annemarie, in 2000, to succeed the conductor of the Jazz Choir when she left. Within a couple of years she was conducting three Jazz Choirs, which during performances were accompanied by a combo led by Erik Doelman. He is moving along in the new set-up. I have been looking for this form for a long time and know it is optimal. In such a case you won't want to loose such a combo".
Besides the Koorenhuis Annemarie has a busy existence. Annemarie, for example, gives tailor made singing workshops and private singing lessons at home and conducts three employee choirs at various ministeries, like the ministry of OCW. "That singing happens during the lunch break. I understand that it really relaxes and at the same time gives energy. People can continue their work in the afternoon with a fresh view".
The above fragment is taken from an interview with Annemarie published in Den Haag Central of Friday 20th of september 2013.
Click here for the complete interview (in Dutch). (JPG file, 439 kB)
Apart from the activities mentioned in the above article, she worked a number of years with improvisation groups in Gouda and Amsterdam. More recently Annemarie conducts the choir Vrouw&CO in Zoetermeer and some close harmony groups.
Annemarie on facilitating singing workshops for organisations:
Experiencing an adventure together. That is my motive, every time. It provides me with an enormous dose of energy, which seems to infect the group I work with. I enjoy motivating people, giving them the feeling that they can succeed – and indeed they do!"