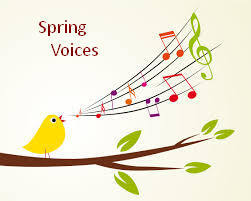 Pay Attention!!! The start date of this course has been moved to the 29th of januari 2020. You can register till that date. As a result of changes in the planning for this spring, the number of rehearsals has been reduced to 17. The price has been adjusted accordingly. The course fee is now € 215, excluding € 20 for the pianist. We rehearse 17 times from 29 January -every time in blocks of 4 weeks- and two performances.

During the sixth edition of the spring project "Spring Voices" we will be singing towards a sunny spring and summer with a broad genre of music: pop, world, a little bit of jazz. Obviously attention will also be paid to vocal training and choral sound. We will conclude the project with two smashing performances.

In 2019 our repertoire comprised of, amongst others, Respect, Mr. Blue Sky, Dancing in the street, Higher ground. This spring amongst others Celebration, A natural woman, Walking on sunshine, Get on your feet …

We have a limited number of places, a maximum of 25, so do not wait to long before registering.

The costs are € 215,- (incl. 9,0% VAT) for a course of 17 weeks and two performances. Excluding €20,- for accompaniment by our pianist.

Further information can be obtained by sending an e-mail to: annemariewillems@ziggo.nl. You can register by completing this Registration Form

See also: General Terms and Conditions for half-yearly courses .

I hope to see you at the 6th edition of the Spring Voices!

Please note: the minimum age for participation is 18 years.